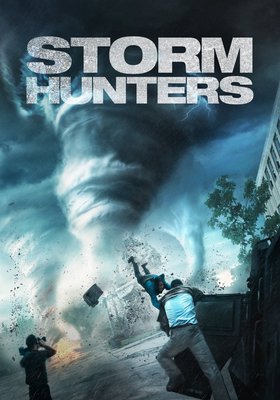 Production

United States, 2014

Release Date

Aug 21, 2014

Original Title

Into The Storm

Director

Actors
New Line Cinema in Zusammenarbeit mit Village Roadshow Pictures präsentiert den Tornado-Katastrophenfilm "Storm Hunters". Steven Quale ("Final Destination 5") führt Regie in dem Film, der von Todd Garner ("Der Zoowärter", "Knight and Day") produziert wird. Innerhalb eines Tages wird die Stadt Silverton von dem beispiellosen Angriff eines Tornados verwüstet. Die ganze Stadt ist der Gnade eines launischen und tödlichen Wirbelsturms ausgeliefert, und die Sturmjäger sagen voraus, dass das Schlimmste noch bevorsteht. Die meisten Menschen suchen Schutz, doch einige bewegen sich auf den Wirbelsturm zu, um auszuprobieren, wie weit man als Storm Chaser geht für die eine Aufnahme des Lebens. Erzählt aus der Sicht professioneller Sturmjäger, erlebnishungriger Amateure und mutiger Stadtbewohner schleudert "Storm Hunters" den Zuschauer mitten ins Auge des Wirbelsturms und zeigt Mutter Natur in ihrer extremsten Form. Quale inszeniert den Film nach einem Drehbuch von John Swetnam. Executive Producer sind Richard Brener, Walter Hamada, Dave Neustadter, Mark McNair, Jeremy Stein und Bruce Berman. In den Hauptrollen spielen Richard Armitage ("Der Hobbit – Eine unerwartete Reise", "Der Hobbit – Smaugs Einöde"), Sarah Wayne Callies (TV-Serie "The Walking Dead"), Matt Walsh ("Ted"), Alycia Debnam-Carey ("Where the Devil Hides"), Arlen Escarpeta ("Final Destination 5"), Nathan Kress (TV-Serie "iCarly"), Jon Reep ("Harold & Kumar – Flucht aus Guantanamo") und Jeremy Sumpter ("Soul Surfer", TV-Serie "Friday Night Lights"). Mit einigen Mitgliedern seines kreativen Teams arbeitete Quale schon bei seinem Film "Final Destination 5" zusammen, darunter Kameramann Brian Pearson, Produktionsdesigner David Sandefur, Cutter Eric Sears und Komponist Brian Tyler sowie Kostümdesignerin Kimberly Adams (Kostümassistentin bei den "Chroniken von Narnia"-Filmen). New Line Cinema und Village Roadshow Pictures präsentieren eine Broken Road Produktion: "Storm Hunters". Der Film wird von Warner Bros. Pictures Germany, a division of Warner Bros. Entertainment GmbH, in die deutschen Kinos gebracht.
Die Einwohner gehen jedoch sehr unterschiedlich mit dieser beunruhigenden Ankündigung um: Zwar suchen die meisten Schutz in Häusern und Kellern, doch eine kleine Gruppe entschließt sich, sich auf die Jagd nach dem Hurrikan zu machen, der die vielen Tornados ausgelöst hat, in der Hoffnung das perfekte Foto davon schießen zu können. Indes sucht Trey (Nathan Kress) im Angesicht des drohenden Desasters seine Geschwister, während sich der alleinerziehender Vater Gary Morris (Richard Armitage) auf die Suche nach seinem Sohn begibt, der unterwegs ist und bisher noch nichts von den angekündigten Tornados weiß...
All shows of Storm Hunters in Mannheim
Currently no data available.