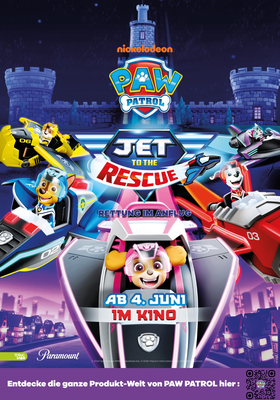 Duration

FSK

0

Genre
Release Date

Jun 4, 2022

Original Title

Paw Patrol: Jet To The Rescue

Director

Actors
Als der intrigante Duke (Stimme im Original: Ashton Leon Frank) einen Schwebe-Edelstein aus dem Schloss stiehlt, muss die Paw Patrol zur Rettung kommen, bevor die Stadt für immer verloren ist. Außerdem muss noch ein Stunt-Pilot, Skye (Lilly Bartlam) und eines der Kätzchen des Bürgermeisters gerettet werden und ein Ausflug zum Jake's Mountain steht auch noch an.
All shows of Paw Patrol: Jet To The Rescue - Rettung im Anflug in Bad Frankenhausen, Kyffhäuser
Currently no data available.