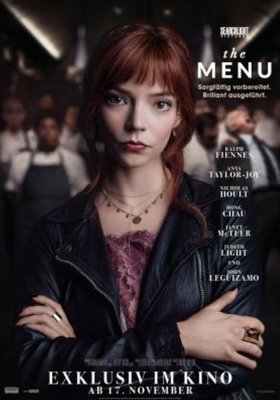 Das junge Paar Margot (Anya Taylor-Joy) und Tyler (Nicholas Hoult) bereist und erkundet Orte, von denen nur wenige Menschen wissen oder Zugang dazu haben, um so in den Genuss der besten kulinatischen Angebote zu kommen. Ihre Abenteuer sind bei Freunden, Verwandten und Bekannten bekannt, und das Paar gilt inzwischen als Experten auf diesem Gebiet. Dank einer Entdeckung in den sozialen Medien hören sie von einem exklusiven, exzentrischen Restaurant, das alle Voraussetzungen für einen nächsten Besuch mitbringt, und reisen zu dessen Standort auf einer abgelegenen Insel, um das großartige und einzigartige Menü des Küchenchefs Slowik (Ralph Fiennes) zu probieren. Doch schon bald stellt das Paar fest, dass die Speisekarte einige Überraschungen enthält, mit denen sie nicht gerechnet haben.
All shows of The Menu in Syke
Currently no data available.