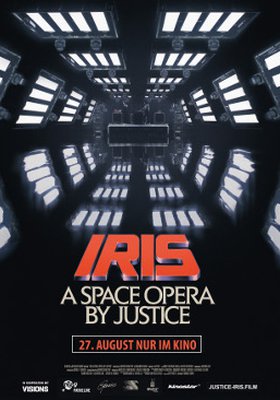 Duration

FSK

12

Genre
Production

France

Release Date

Aug 27, 2019

Original Title

Iris: A Space Opera by Justice

Director

Actors
Featuring their album Woman Worldwide, Justice adapted the live show of their last tour into a visual, immersive 60-min cinematic experience for the big screen. Recorded in an empty and invisible space at the Cité du Cinéma in Paris without an audience, focusing only on the impressive production and music, Iris: A Space Opera revolves around a floating structure comprised of 13 independent moving frames, each one featuring 4 rotating panles of LEDs, mirrors and traditional warm lights which offer infinite combinations. The structure is in constant evolution over the duration of the show and proposes several new visual landscapes on every track performed. The concert will be introduced with a very exciting 24-min making-of documentary featuring interviews of the band and the creative team behind Iris, giving fans a total experience of the show.
All shows of IRIS - A space opera by Justice
Currently no data available.