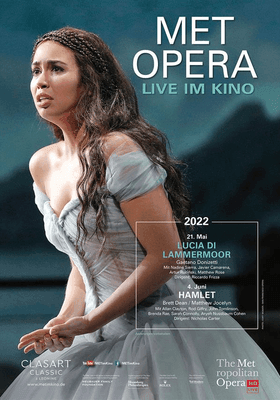 Duration

Genre
Release Date

May 21, 2022

Director

Actors
Die Liebe zwischen Lucia und Edgardo ist nicht nur eine private Tragödie, sondern eine Geschichte über Macht, die menschliche Beziehungen im Innersten zerstören kann. Die Uraufführung 1835 war einer der größten Triumphe, den das neapolitanische Theater je erlebt hatte. Großen Anteil an diesem bis heute anhaltenden Erfolg hatte Lucias berühmte Wahnsinnsarie, eine der berührendsten Opernszenen überhaupt.
Gaetano Donizetti LUCIA DI LAMMERMOOR (ca. 3:44) – 2 Pausen
Mit Nadin Sierra, Javier Camarena, Artur Rucinski, Matthew Rose
Dirigent: Riccardo Frizza, Produktion: Simon Stone
All shows of The Metropolitan Opera: Lucia Di Lammermoor
Currently no data available.