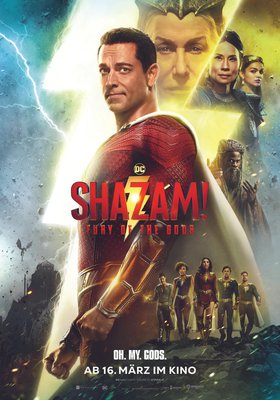 Billy Batson ist ein Teenager der etwas besonderen Art. Wenn er das Zauberwort "Shazam!" sagt, verwandelt er sich in den Superhelden Shazam und wird zu seinem erwachsenen Alter-Ego. Doch nicht nur er hat ungewöhnliche Superkräfte, auch seine Pflegefamilie-Geschwister Freddy, Mary, Pedro, Eugene und Darla, von denen jeder andere Kräfte mitbringt, sind mit von der Partie. Als sie im Laufe der Zeit lernen, mit diesen Kräften umzugehen, folgt eine unheilvolle Konfrontation mit den Titanen-Töchtern Hespera, Kalypso und deren jüngerer Schwester, die im Auftrag des Titans Atlas der Erde einen Besuch abstatten und nichts Gutes verheißen. Billy wird sich fortan wappnen müssen, obwohl er gleichzeitig inmitten einer Sinnkrise steckt und von dem Glauben geplagt wird, den Superheldenstatus nicht zu verdienen.
All shows of Shazam! Fury of the Gods
Currently no data available.