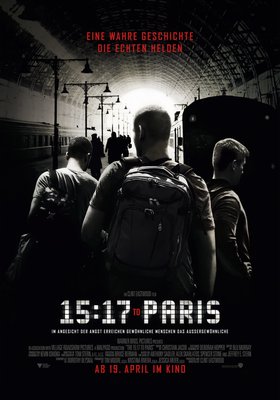 Am frühen Abend des 21. August 2015 starrten die Zuschauer in aller Welt fassungslos auf ihre Bildschirme, als in den Nachrichten die Meldung verbreitet wurde, dass im Thalys-Zug Nr. 9364 Richtung Paris ein terroristischer Anschlag vereitelt worden war - drei tapfere junge Amerikaner auf Europareise hatten ihn verhindert. Der Film erzählt das Leben der Freunde, die Probleme ihrer Kindheit, ihr langer Weg in eine gefestigte Existenz und die Serie von Zufällen, die zu dem Anschlag führten. In der extremen Stresssituation gerät ihre Freundschaft nie ins Wanken - und genau das stellt sich letztlich als ihre wirksamste Verteidigung heraus: So gelingt es ihnen, das Leben von über 500 Menschen an Bord zu retten.
All shows of 15:17 to Paris
Currently no data available.