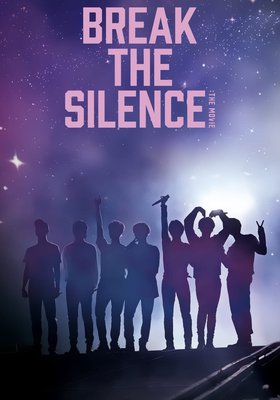 Duration

Genre
Release Date

Sep 10, 2020

Original Title

브레이크 더 사일런스: 더 무비

Director

Actors
Die Tournee "Love Yourself: Speak Yourself" der koreanischen Boyband BTS ist vorbei. Die weltweite Stadiontour übertraf alles und markierte BTS als erste koreanische Gruppe, die im Londoner Wembley-Stadion auftrat. Die Tour zog durch Städte wie Los Angeles, Chicago, New York, São Paulo, London, Paris, Osaka, Shizuoka, Riad und Seoul. Mit beispiellosen Zugang reist der Regisseur Jun-Soo Park mit der Band während der ganzen Tour mit und zeigt jedes Mitglied ganz privat. Außerhalb der Bühne sehen die Zuschauer so eine ganz andere Seite von BTS. Die sieben Bandmitglieder beginnen, persönliche Geschichten zu erzählen, die sie noch nie zuvor mit der Öffentlichkeit geteilt haben.
All shows of BTS - Break the Silence: The Movie in Limbach-Oberfrohna
Currently no data available.