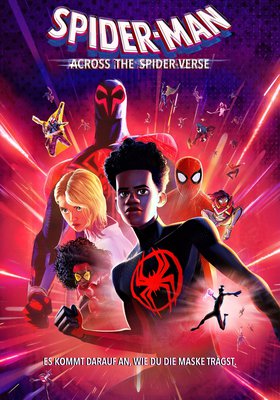 Duration

FSK

12

Genre
Production

United States, 2022

Release Date

Jun 1, 2023

Director

Actors
Brooklyns freundliche Spinne aus der Nachbarschaft ist zurück! Nachdem sich Miles Morales (Stimme im Original: Shameik Moore) aka Spider-Man gerade erst an seine Rolle gewöhnt hat, wird er bereits in sein nächstes Abenteuer und quer durch das neu entdeckte Multiversum geschleudert. Um dessen Existenz zu schützen, muss sich Spider-Man zusammen mit Gwen Stacy (Hailee Steinfeld) und einem neuen Spider-Team (u.a. Oscar Isaac, Daniel Kaluuya, Karan Soni) einem Bösewicht stellen, der mächtiger ist als alles, was ihnen bisher begegnet ist. Nur mit vereinten Kräften ist es ihnen vielleicht möglich, die Welt zu retten. Doch welche ist die richtige Vorgehensweise, um der Bedrohung zu begegnen? Als die vielen Helden der Spider-People über diese Frage aneinandergeraten, muss Miles seine eigene Rolle als Held neu definieren, um die Menschen zu retten, die er liebt.
All shows of Spider-Man: Across the Spider-Verse in Aschersleben
Currently no data available.