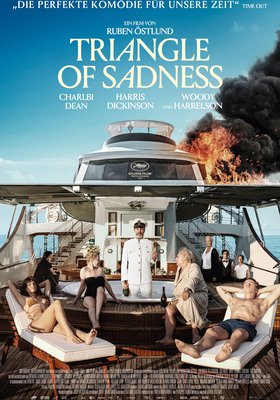 Das junge Männer-Model Carl (Harris Dickinson) und die erfolgreiche Influencerin Yaya (Charlbi Dean Kriek), in deren Beziehung es ein wenig kriselt, sind es gewohnt, ihr Luxus-Leben auf Instagram zu vermarkten. Als sie auf eine Kreuzfahrt für Superreiche eingeladen werden, können sie Erholung und Arbeit perfekt miteinander verbinden – sich mit einem Champagner-Glas auf dem Sonnendeck zu räkeln, ist schließlich absolut social-media-tauglich. Hinter den Kulissen geht es jedoch weit weniger paradiesisch zu. Während sich der dauerbetrunkene, marxistische Kapitän (Woody Harrelson) in seiner Kabine einschließt, versucht die Crew unter Leitung ihrer perfektionistischen Chefin Paula (Vicki Berlin), den verwöhnten Gästen jeden noch so absurden Wunsch zu erfüllen. Als das obligatorische Kapitänsdinner, zu dem sich der Captain dann doch noch breitschlagen lässt, ausgerechnet während eines Sturms stattfindet, laufen die Dinge jedoch völlig aus dem Ruder.
All shows of Triangle of Sadness in Syke
Currently no data available.